2023 Camp Card Sale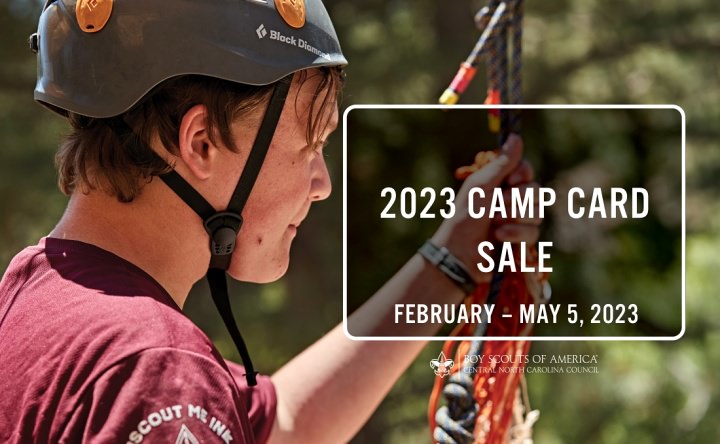 Welcome to the 2023 Camp Card Sale
Selling Camp Cards is an easy, no-risk way to teach Scouts the value of earning their way. Going to camp is the highlight of every Scout's year. Shouldn't they understand the value of that experience?
Thank you for investing the time and energy to lead your Scouting Unit's 2023 Camp Card Campaign. This sale plays an essential role in allowing you to generate the funds for your Unit, and to send your Scouts to camp this summer.
Imagine being able to pay for a MAJOR portion of what your Unit does for an entire year with Camp Card profits: Trips, campouts, trainings, advancements, blue & gold banquets, courts of honor, trailers, uniforms, day camp, resident camp, and summer camp!
Last year, Scouts in the Central North Carolina Council earned over $61,000 to fund their Scouting adventure. Our goal is to give each Cub Scout, Scouts BSA, and Venturer the opportunity to earn the money needed to have the best Scouting summer ever.
This "Leaders' Guidebook" will help to introduce our 2023 Camp Card Sale, how it will benefit your Scouts, including important sales information, time lines, the card vendors, signing up and people who can help you. Thank you for making a difference in the lives of the Scouts in your Unit!
CAMP CARD IMPORTANT DATES
February – May 5, 2023 = Camp Card Sale Period
April 3 - 6, 2023 = Units may return unsold cards without penalty for mid-sale council redistribution. -Units may purchase all cards they requested and receive 60% commission. Unit buys and keeps all cards. No returns!
April 7, 2023 = In stock Camp Cards available for redistribution to units requesting more cards to sell.
May 5, 2023 = End of Sale. Deadline to have unsold cards and money to Council Service Center at 50% commission.
May 6 -19, 2023 = Deadline to receive 35% commission.
After May 19, 2023 = Unit receives 0% commission.
May 26, 2023 = Prize order form deadline. May be turned in early when closing sale with the Council.
Camp Card Summer Camp Scholarship Opportunity (tentaroo.com)