Martin Marietta Free Mining and Society Event (Old Hickory District Only)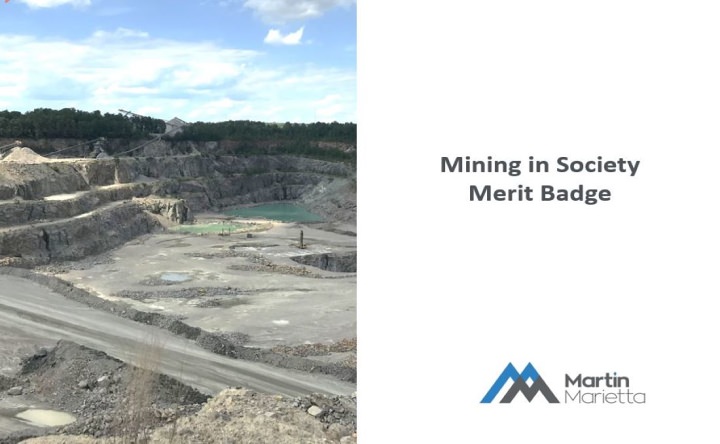 Old Hickory District Webelos and Scouts
Date: 10-22-2022
Time: 9:00am – 9:30am: Arrival
9:45am – 10:00am: Introductions/Safety Briefing/Opening Comments
10:00am – 12:00pm: Rotate through stations
12:00pm – 12:45pm: Group Picture then Pizza lunch
12:45pm – 1:00pm: Closing Statements/Orderly Departure
Address: 2111 N Rocky River Rd, Monroe NC 28110

What is being provided by Martin Marietta:
• Informative PowerPoint presentation (attached, with additional content to be added
or modified to represent the Charlotte/Monroe area)
• Interview with Miners
• Transportation around mine site on guided tour
• Pizza lunch (Pizza Hut) and Bottled water/sodas. *Any dietary
restrictions or food allergies are the responsibility of the parents or chaperone*

What is being provided by Scouts:
• Supervision and organization of scouts while on site.
• Complete list of all visitors that are attending (children, parents, and Scout staff) to
facilitate signing in/out process and accountability in case of emergency.
• Discussion topics for small group time.

Complete Wavier Prior To Event (Attached at the bottom)
100 Max Participants. Carpool if possible.
Please arrive starting at 9:00 AM. We need everyone parked by 9:30 AM. They plan on having 4 stations in which the kids will rotate through (while parents are welcome to participate where room allows, we are doing this first and foremost for the kids, and they should have precedence if space is an issue). NO DRIVING around the quarry. Do not drop off your child and leave, they need to have a parent present or a unit leader. They will have vans on site to move between stations. I anticipate each station taking roughly 25 minutes, leaving a small amount of time in-between to rotate stations/use the restroom. Scout Leaders are required handling and dividing the children into these groups and being in charge of organizing and moving the scouts between stations. The event will end at 1:00 PM
Lunch will be provided. We are having Pizza Hut. Come with discussion topics for all employees. I will bring blue cards for all leaders. Feel free to take all the photos you would like. I would like to get a group photo before everyone leaves.
| File Name | Description | |
| --- | --- | --- |
| Martin Marietta - Baker Quarry Event Release and Wavier of Liability | Required to attend the event | Download |