Gold Rush Webelos Fall Camporee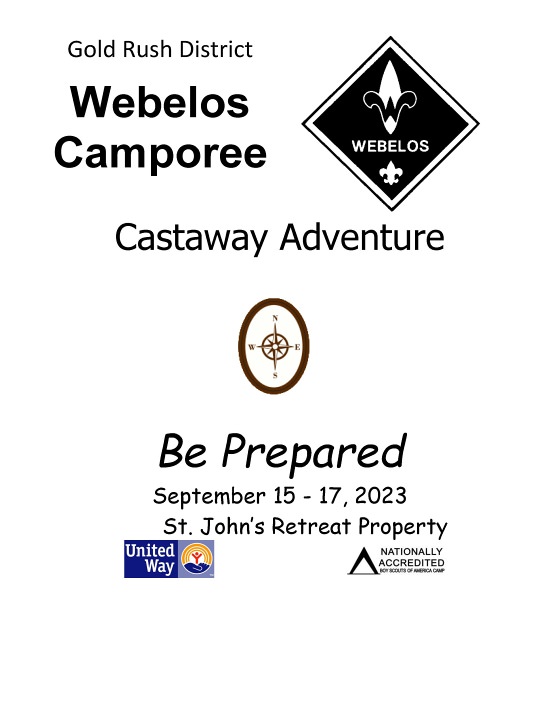 Dear Cubmaster and Webelos Leaders,
If you're like me, you wondering where the summer has gone. With school already starting, it's time to get our Webelos program fired up so we can have the scouts ready for graduation in spring. In Pack 443, we have a lot of competition with the fall sports schedule but we've found a great way to keep the scout's interest high. We've found that a camping trip in the fall usually gets and keeps the scouts' attention for the remainder of the year. We invite your Webelos/AoL scouts to join us.
With that fall camping trip in mind, the Gold Rush District Cub Scout Committee has planned a very exciting Webelos camporee at St. John's Lutheran Church Retreat property on September 15-17, 2023. Our Webelos dens will learn Survival skills while working on the Castaway adventure badge and engage in fun games. Of course there will be the traditional Saturday night campfire program and a short Sunday Morning Worship Service. All Scouts in attendance will receive a beautiful camporee patch and should be able to complete Castaway and Camper adventure badges. My Webelos dens plan to go as named dens just like Scout BSA patrols do. In the past, my scouts agreed this fall camporee was one of best events they attended. I'm sure your scouts will love it too. One new feature is that packs may camp on Friday night even though programing starts on Saturday. Thus a pack may camp Saturday, or both Friday and Saturday nights.
Since many Webelos leaders are new to camping and Boy Scout methods, the camporee committee has put together this information booklet that includes descriptions of the events, a set of guidelines, and a campsite checklist. The guide may be downloaded from the CNCC web site. Camporee fees are $15.00/scout, $5.00/adult or sibling, or $0 scouting age friend for this event. Of course there are costs for the supplies(food etc.) your pack/den uses while they are there but those will be handled by the pack. If you have any questions please don't hesitate to contact:
Dave Roof-- Home: 704 637-1272, cell: 704 798-8001 or e-mail: dcroof@aol.com
| File Name | Description | |
| --- | --- | --- |
| Gold Rush Webelos Fall Camporee Leaders Guide | | Download |