Central NC Council Recognition Banquet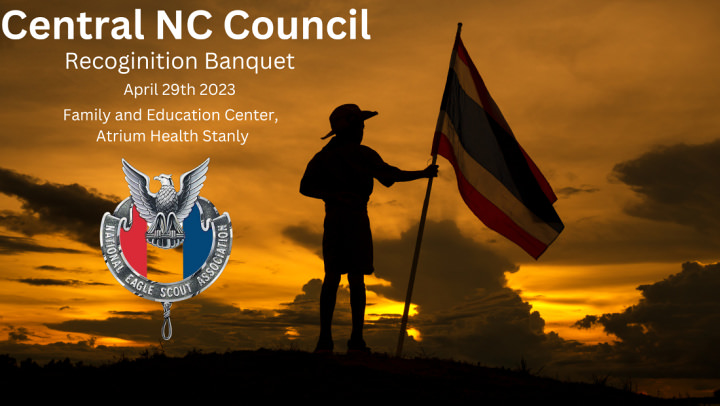 Date/Time:
Apr 29, 2023 6:00 pm
Location:
Atrium Health Stanly Family and Education Center
301 Yadkin St
Albemarle, NC 28001

When/Where: April 29th, 2023, 6PM, Family and Education Center, Atrium Health Stanly
• Address: 301 Yadkin St. Albemarle, NC 28001
• Doors will open at 4:30 pm Cost: Limited Seating, Don't Delay!
• Eagle Scouts/Silver Beaver/National Outstanding Eagle Scout Recipients from 2022: Free
• Early Bird: $35. Must be registered by 2/15/2023
• Regular Registration 2/16-4/9/2023: $40
• Late Registration: 4/10-4/23/2023: $45
Recommended Attire: Scout Uniforms or Business Casual Purpose: The Council Recognition Banquet is designed for Scouts and Scouters from the Central NC Council to gather for a night of recognition and fellowship. We will be recognizing Central NC Council Eagle Scouts, National Outstanding Eagle Scouts and Silver Beaver from the class of 2022. 2022 Eagle Scouts who are in attendance will receive commorative items that include a Central NC Council Eagle Scout Neckerchief, commemorative coin and commemorative council strip! 2022 Silver Beaver and NOESA recipients will also receive award items and a commemorative council strip. Key Program Points: Our Keynote Speaker for the event will be Mr. Bo Thompson. Bo is an Eagle Scout and a popular local radio newscast host, anchoring the "Bo Thompson Morning Show" on WBT.
Key Contacts: Jay McKinney: jmckinne12@gmail.com Or Chad Wells: chad.wells@scouting.org