Popcorn Resources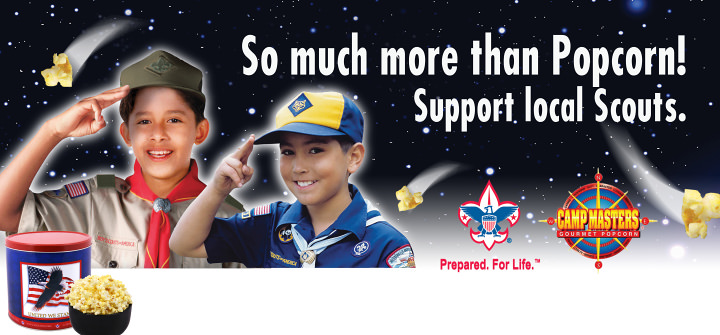 Every Scout should learn the value of hard work and earning their own way. The popcorn sale is the perfect opportunity to teach this valuable life lesson and fund the most exciting year of Scouting ever. Over 70% of the popcorn sale supports your programs and local Scouting!
Scouts gain confidence, salesmanship and communication skills, and a sense of accomplishment. The popcorn sale is not just about selling popcorn; it's also about promoting Scouting and the Scouting ideals!
How to Sell Popcorn
There are three different ways to sell Popcorn as a unit.
Online Sales
The easiest way to sell Popcorn is Online. Online sales are always available and can be used to raise funds for your unit no matter where the customer is located. Just go to CampMaster.com and register for your Scout's personal Online Selling Page or log in and update your Scout's personal information if you have sold Popcorn Online before.
Show and Sell
Show and sell is a direct sale that takes place outside of a local business, where Scouts interact directly with community members and encourage them to buy popcorn. If your unit is engaging in a Show and Sell, you will need to first identify a local business where you can sell. Your unit should order their inventory by the show and sell deadline. You may sell the product however you see fit.
Take Order
If your unit is engaging in a Take Order Sale, you will need to get order forms for your Scouts at the Popcorn Kickoff. There are four popcorn kickoffs during the summer, so feel free to choose the one that is most convenient for your Unit Kernel. Your Scouts can take orders until their unit's deadline when all order forms must be turned in to the Unit Kernel. The Unit Kernel enters these orders into the online order system by the Take Order deadline.
2023 Important Dates
July 31, 2023 - Online Order Starts
August 11, 2023 - How to Sell $10k in a Weekend Webinar from Camp Masters (6:30 PM Start) How to Sell $10,000 in a weekend | Campmasters-org
August 12, 2023 - Popcorn Kick-Off Orientation (12:30 PM Start) - Camp John J. Barnhardt
August 12, 2023 - Unit Show-N-Sell Orders Due by 5:00 PM
August 19, 2023 - How to Sell $10k in a Weekend Webinar from Camp Masters (11:00 AM Start) How to Sell $10,000 in a weekend | Campmasters-org
August 31, 2023 - Show-N-Sell Popcorn Delivery (Gibson Mills or at a specified district location for Old Hickory and Uwharrie Districts)
September 1, 2023 - Take Order Sale Starts
October 20, 2023 - Unit Take Orders Due by 5:00 PM
November 17, 2023 - Take Order Popcorn Delivery (Gibson Mills or at a specified district location for Old Hickory and Uwharrie Districts)
December 1, 2023 - Popcorn Sale Ends